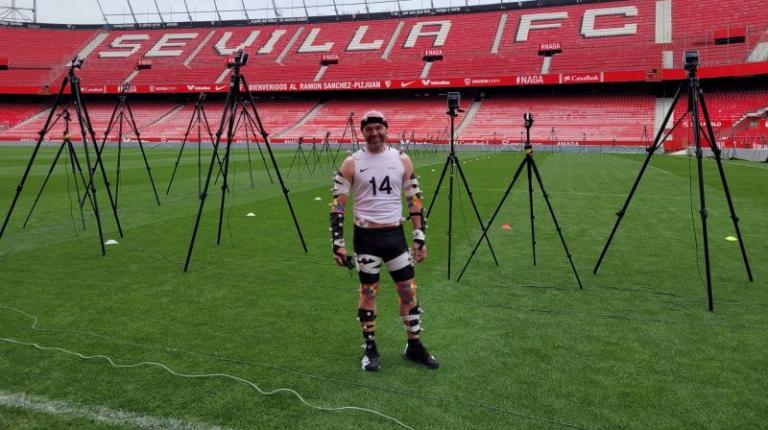 Revolutionary new research developed for FIFA at Victoria University will ensure that all offside decisions made at the 2022 World Cup in Qatar are accurate, quick, and clear.
FIFA has aspired to harness the power of cutting-edge technology to improve professional football for decades, with electronic systems approved for goal-line technology some 10 years ago, and Video-Assisted Refereeing (VAR) a feature since the 2018 World Cup.
Now, after three years of research, FIFA has approved technology for the 2022 World Cup to rule on offsides.
The new technology will greatly shorten the often-excruciating delay of around 70 seconds on average that referees can devote to making offside decisions, while providing officials with clear evidence about the accuracy of their calls.
Professor Robert Aughey, who led the VU team in FIFA-commissioned research, says that with billions of dollars tied up in the world's biggest sporting event, referees cannot afford to make mistakes on offside calls that may very well decide if a team wins or loses a match.
"This development enhances the integrity of the game and is an example of an excellent application of technology to assist and support referee decisions."
The VU researchers scientifically analysed and validated the accuracy of data used in new 'limb-tracking' technology that determines where all 22 players on both teams are in relation to each other - and in relation to the ball - through three-dimensional Vicon motion-capture vision.
Testing to sub-millimetre precision
Conducted earlier this year in Spain, the research included 44 infra-red cameras to measure the return of light from reflective markers on players' body parts to test the accuracy of the limb-tracking technology.
The measurements were made to sub-millimetre precision, and conducted across a series of test scenarios to mimic real-life match play, ranging from clearly offside play, to marginal calls involving several players.
The results showed that FIFA's so-called Semi-Automated Offside Technology (SAOT) is both accurate and will save time, allowing referees to make offside calls in fewer than 10 seconds, rather than minutes.
The SAOT system will be installed throughout all of Qatar's stadiums, with 12 cameras mounted under stadium roofs to monitor the exact position of each player 50 times per second. A separate sensor positioned inside the centre of the ball will send data up to 500 times a second to detect precise kick points.
By synchronising the data and applying sophisticated algorithms in real time, the system triggers an alert when a potential offside position is detected, which is then quickly confirmed by an official before the referee makes a final call.
After each decision, a a 3-D animation of the incident can be broadcast on the giant screens at the stadium and on TV for fans and spectators to see the accuracy of the call.
VU sport scientists, and their commercial company, TRACK, began working with FIFA on various projects in 2017, when FIFA chose Victoria University for its reputation for research excellence, unique interdisciplinary approach, and track record for quality scientific analysis in high-performance sport.